As a mother, it is a matter of fact that we only want to give the best food to our baby. From purchasing high-quality ingredients to packaged foods, we will only choose products that are not only nutritious, but healthy and safe for our little ones, too.
One of the most popular baby foods is organic baby food. It is now a norm for parents to predominantly choose organic baby food as the main source for their babies' first solid foods. However, not many parents are well versed in the subject of organic food. What is organic and what are the advantages of choosing organic food for our little ones?
"So, what exactly is organic food?"
For your information, people who try eating organic food are not only looking after their health, taste, and the safety of their food – is it clean and how was it produced? Generally, organic food is produced by methods that comply with the standards of organic farming, which is using natural processes to grow the food and these processes must be environmentally friendly. Organic food must be free of or undergoes these processes:
Crops that are free from chemicals and pesticides.
Crops that are free from synthetic fertilizers.
Crops were planted in a safe and unpolluted land without any prohibited substances applied.
Each organic plant has to go through a few specific farming processes. To make sure your baby's food is produced organically, you can check the special attributes below that are often practiced in organic farming.
Pesticide-free and less exposure to chemicals.
To be honest, we all know that the vegetables that we usually buy in the markets are exposed to synthetic pesticides that are dangerous to the body. Even worse is when the toxins in the pesticides are harmful to our children's health.
Oh, no! Imagine the potential risks of what could happen if you give inorganic foods to your little one?
This is why it is important for you to only provide a safe and organic food for your little one. Organic food can reduce the exposure towards toxins and pesticide residues, as well as antibiotic-resistance bacteria.
DID YOU KNOW? Dangerous pesticide residues can be found four times the amount in conventional crops than in organic crops!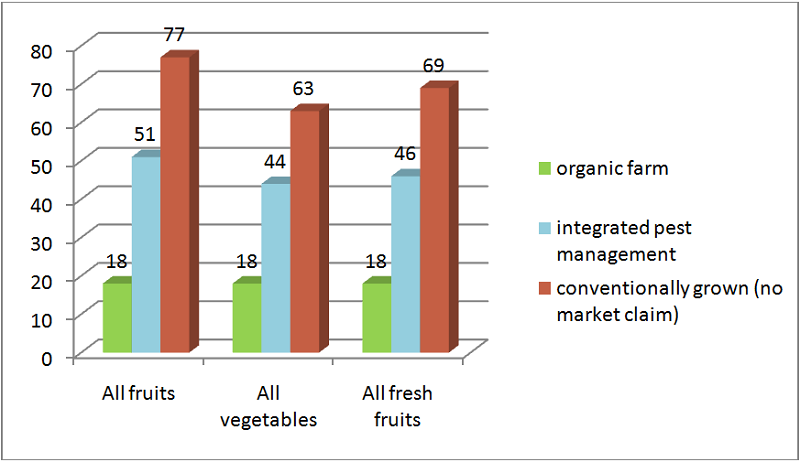 However, the amount of toxins and pesticides in conventionally crops are still controllable and safe for consumption.
Environment-friendly and pollution-free.
Organic farming gives a lot of benefits to the environment. Not only would it reduce air, water, and soil pollution; but it can also conserve water, reduce soil erosion, and increase soil fertility.
Without the use of chemicals or pesticides, organic food will grow in harmony; preserving the biodiversity in all stages of life – from seed and earthworms to birds and bees (which are important for the ecosystem).
As compared to regular fertilisers that are used for conventional farming, organic farmers use natural fertilisers or manure. These natural fertilisers reuse wastes and mend the structure of the soil.
That is why you are advised to use organic food. Not only is the food safe, but you are also making a positive impact towards the environment because of its green nature! How awesome is that?!
Non-Genetically Modified Organisms (non-GMOs)
Authentic organic food is not made from Genetically Modified Organisms (non-GMO). The fact that it does not go through the genetic modification process would not make organic food stay fresh longer for an unnatural amount of time.
So, what is the difference between organic and conventional farming?
In simpler terms, conventional farming will need chemicals, such as pesticides and synthetic fertilisers to fight against pests or unwanted weeds and plants.
Organic farming, however, would depend on the principles of mother nature to produce naturally healthy and nutritious food.
Maybe you are used to the food produce sold in the markets, but for the sake of your baby's health, you should consider moving on to more organic and safer food produce. Our baby is in the process of growing up; thus, it is our responsibility to provide them with healthy and nutritious baby food that is suitable for their growth.
Mmm… is this really organic food?
If you have any doubts or confusions as to whether the food is certified organic or not, one tip is to check whether the food is labeled with USDA Organic.
Other than the organic fruits and vegetables that are available in the market, Gerber® Organic is also a great choice for baby food for all the parents out there. Gerber® Organic produces high-quality and safe baby foods, and it is labeled with USDA.
All the ingredients used in every Gerber® Organic product are made up of selected natural ingredients that do not contain any artificial flavouring, preservatives, or added artificial colouring. Gerber® is more than just organic. They are very meticulous throughout the process; from choosing the soil to the farming and production of their products.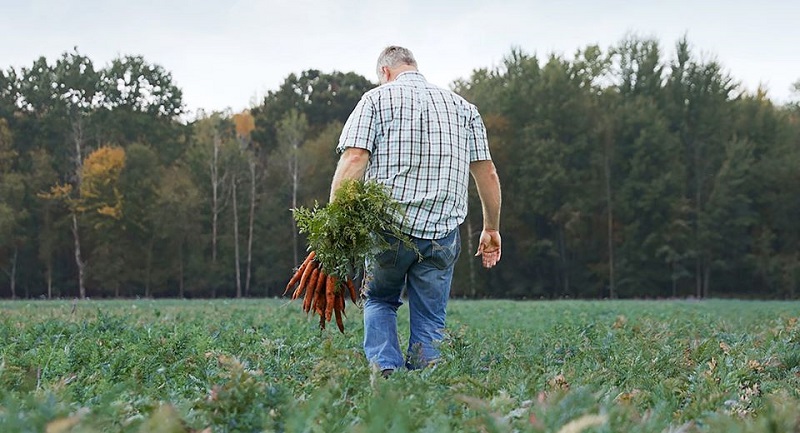 Gerber® products are certified USDA organic and non-GMO. More interestingly, Gerber® is always committed to exceeding your expectations as Gerber® uses a super strict farming method – the Clean Field Farming™, to ensure fruits, veggies, and cereals are not only nutritious, but also wholesome and safe for even the littlest ones. Gerber® is also 100% imported from the USA.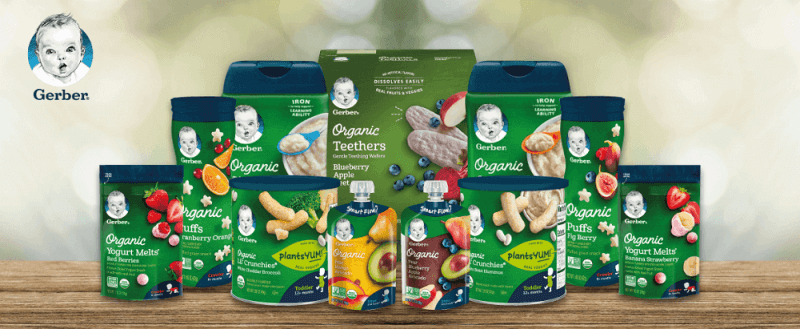 Apart from the highly nutritious ingredients, Gerber® Organic is also packaged in lightweight packs, which make it easier for both parents and children alike to enjoy.
Reference:
Ewa Rembiałkowska and Maciej Badowski (September 12th 2011).

 

Pesticide Residues in the Organically Produced Food, Pesticides in the Modern World – Effects of Pesticides Exposure, Margarita Stoytcheva, IntechOpen, DOI: 10.5772/18266.